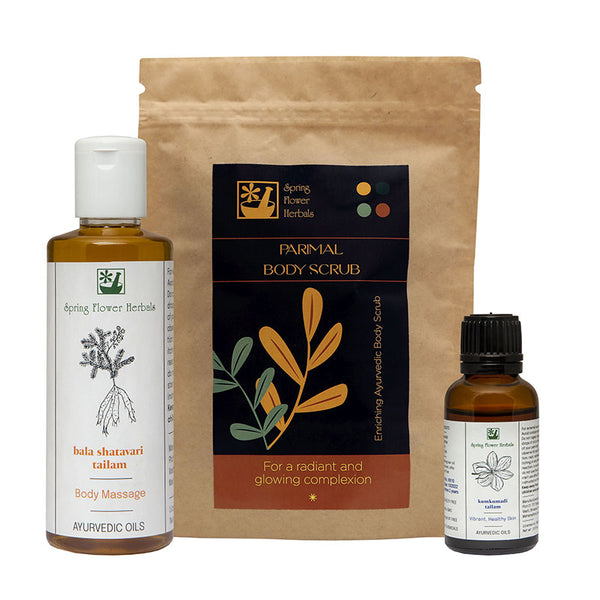 For external use only.
Pamper-your-skin Combo Pack offers you two excellent oils for your skin and complexion- namely the Bala-Shatavari Body Massage oil and Kumkumadi Oil for your face care. The Bala-Shatavari oil takes care of your bones, muscles and skin. Regular massage with this oil gives you a well-toned body with a soft and smooth skin. Come winter and skin becomes dry and lifeless. Bala-Shatavari oil is used to combat just that. And for your face -no need to use any chemicals to get back the glowing and radiant complexion. Kumkumadi Tailam made from the goodness of pure saffron gets rid off blemishes, dark circles under the eyes, dark spots on the face, hyper pigmentation. This night time oil works as a wonderful anti-ageing oil. The Parimal Body Scrub for the after wash- be it body or face. Made from herbs such as Sandalwood, Vetiver, Licorice, and Indian Madder, this is a blood purifying, exfoliating scrub as well as a face pack. A wonderful substitute for soap. It is used for the famous Udvartanam. Just make a paste of the Parimal Body scrub in either milk, rose water or a combination of both and apply it either on your body or face to wash off the excess oil. And experience a soft, smooth and silky skin. 
Size: 200 mL Bala-Shatavari oil; 15mL Kumkumadi Oil; 100g Parimal scrub.
Information and statements about the products on this site have not been evaluated by the Food and Drug Administration (USA) and are not intended to diagnose, treat, cure, or prevent any disease. You should not use the information on this website for diagnosing or treating a health problem or disease, or for prescribing any medication. If you are pregnant, breastfeeding or have any medical condition and or allergies, consult a medical physician before using any Ayurvedic products on our website. Oils are flammable and when washing your clothes in a washer and dryer consult your washer and dryer manufacturer's guidelines for drying linens that have been in contact with oils.
Aromatic Spice Blends is proud to offer this line of herbal wellness products from Spring Flower Herbals, an Ayurvedic health and personal care product company based in Pune, India.
Aromatic Spice Blends, LLC. does not assume any responsibility for the wellness products and disclaim any liability for any use of these products. All statements and suggestions are made without warranty, expressed or implied, regarding the accuracy of the information, the hazards if any connected with the use of the material or the results to be obtained from the use thereof. For specific questions for all wellness products on this website please contact Dr. Neeta Patwardhan at +919225547301; or email her at: springflower.herbals@gmail.com
About Spring Flower Herbals:
Spring Flower Herbals is a company dedicated to making authentic Ayurvedic health and personal care products for over 18 years. Proprietor Dr. Neeta Patwardhan is a qualified Ayurvedic Physician and has obtained her degree (BAMS) from Tilak Ayurved Mahavidyalay, Pune. She has also attended a training workshop in Abhyangam & Panchakarma Therapy at the Arya Vaidya Sala Kottakkal, Kerala. The company has a valid FDA license (India) and all GMP (good manufacturing practices) are strictly abided by. All the products are made strictly according to the methods and procedures described in the ancient texts of Ayurveda, such as the Sharangdhar Samhita, Bhaishajya Ratnavali or the Ashtang Hridayam. The products are 100% natural without any chemicals or preservatives of any sort. ​
Dr. Neeta Patwardhan personally supervises the making of all the products.
Aromatic Spice blends makes the best individual and mixed spices. I have tried many blends and they can be used in so many different ways. Taco spice can be used in Mexican rice. The chai spice can be used in desserts and cereals. Great work!
Koolfam R.
Really tasty spices. Made fresh every time! Especially love the Chai and Coffee Spice!
Neeta P.
Absolutely delicious spice blends and snacks. My kids especially love the peanut garlic chutney on toast, and I use the Power Latte on my oatmeal every morning. Deepa's blends have inspired me to expand my cooking horizons and try new things...they are that good!
Jess M.
Amazing spices! Creative blends for so many different cuisines all made with the highest quality ingredients. Order a few familiar spice blends and then choose a few to push your recipe portfolio. The owner helped us with a large order for this year's client gift. It went over so well we think it might be our annual tradition!
Courtney S.
As a cook, I normally mix my own spice blends. Then I stumbled across Aromatic Spice Blends at Mom's Organic Market. OMG! I may never mix my own spices again.
Radhika M.
What an amazing array of spice mixes! Each one flavorful with hand picked ingredients. The owner, Deepa proudly explains how she carefully chooses her ingredients from many parts of the world to bring the perfect flavors to her blends. Among many other blends, taco spice, adobo, harissa, garam masala and chaat masala are our favorites!
Seems N.