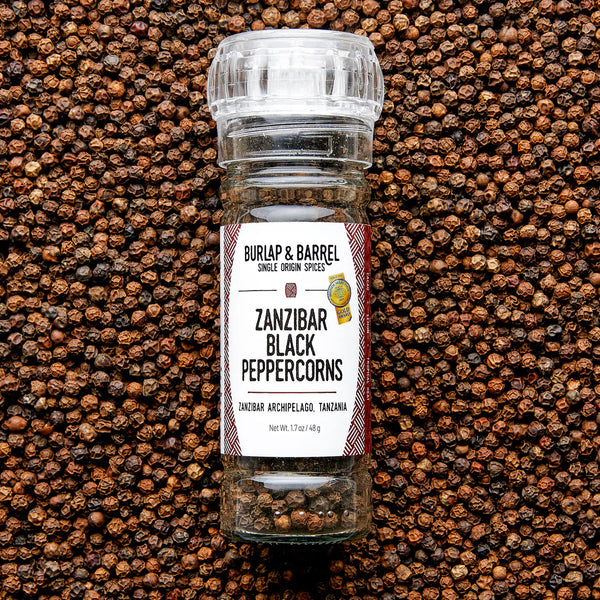 Zanzibar Black Peppercorns
Aromatic Spice Blends is delighted to offer a selection of single-origin whole spices from Burlap & Barrel, a company committed to equitably sourced spices that support small farmers around the world.
From Burlap & Barrel:
Our award-winning, vine-ripened whole Zanzibar Black Peppercorns are carefully hand-picked and sun-dried for a bright, fruity and spicy peppercorn.
Black pepper grows in bunches like grapes, on a climbing vine. Most black peppercorns are harvested while still green, and the drying process gives them their distinctive dark skin. These are rich, chocolate-colored peppercorns with dense wrinkles and a bright, fruity spiciness.
Burlap & Barrel is the exclusive importer of Zanzibar black pepper into the United States. Our pepper, like all of our spices from Zanzibar, are grown organically.
1.7 oz grinder top jar
Product photo courtesy of Burlap & Barrel
Aromatic Spice blends makes the best individual and mixed spices. I have tried many blends and they can be used in so many different ways. Taco spice can be used in Mexican rice. The chai spice can be used in desserts and cereals. Great work!
Koolfam R.
Really tasty spices. Made fresh every time! Especially love the Chai and Coffee Spice!
Neeta P.
Absolutely delicious spice blends and snacks. My kids especially love the peanut garlic chutney on toast, and I use the Power Latte on my oatmeal every morning. Deepa's blends have inspired me to expand my cooking horizons and try new things...they are that good!
Jess M.
Amazing spices! Creative blends for so many different cuisines all made with the highest quality ingredients. Order a few familiar spice blends and then choose a few to push your recipe portfolio. The owner helped us with a large order for this year's client gift. It went over so well we think it might be our annual tradition!
Courtney S.
As a cook, I normally mix my own spice blends. Then I stumbled across Aromatic Spice Blends at Mom's Organic Market. OMG! I may never mix my own spices again.
Radhika M.
What an amazing array of spice mixes! Each one flavorful with hand picked ingredients. The owner, Deepa proudly explains how she carefully chooses her ingredients from many parts of the world to bring the perfect flavors to her blends. Among many other blends, taco spice, adobo, harissa, garam masala and chaat masala are our favorites!
Seems N.