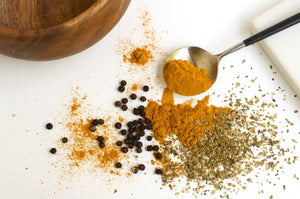 Welcome to Aromatic Spice Blends!
I am Deepa, a scientist by profession and a passionate home cook by nature. As a family, we have always experimented with flavors by mixing up aromatic whole spices to recreate tastes we have stashed in our memories from eating at the homes of family and friends from all over the world! While taking a break from my career to be a mom, my husband got me into thinking of opening up our array of spice blends to the market. 
In 2011 I made the leap and began offering our blends for sale, and we soon found out that they were appreciated very much by our friends and customers alike. 
We continue to explore flavors of different cuisines as well as create our very own. It is amazing how flavorful meats and vegetables become with the addition of a few simple spices. We now have over 54 different spice blends representing cuisines from around the globe, as well as from our kitchen and our parents' kitchens!
Our Process:
To create each blend, we purchase organic whole spices and organic herbs. Each one of these is sifted by hand and blended to perfection in micro batches of 2-4 pounds at a time. They are dry roasted, then ground and packaged in small quantities of 1 ounce or less so one never has to store too much and can always bring home the freshest batch. We also include a recipe on the back label of every pack, or at least suggestions for use, so one can experiment with any of our blends. To make sure the supply from our kitchen to yours is always fresh, we partner with retailers who purchase small quantities from us — but often enough!

From our spice blends to the art on our packaging, we do everything by hand to bring you Excellence in Simplicity!

Best Seasonings, 
Deepa