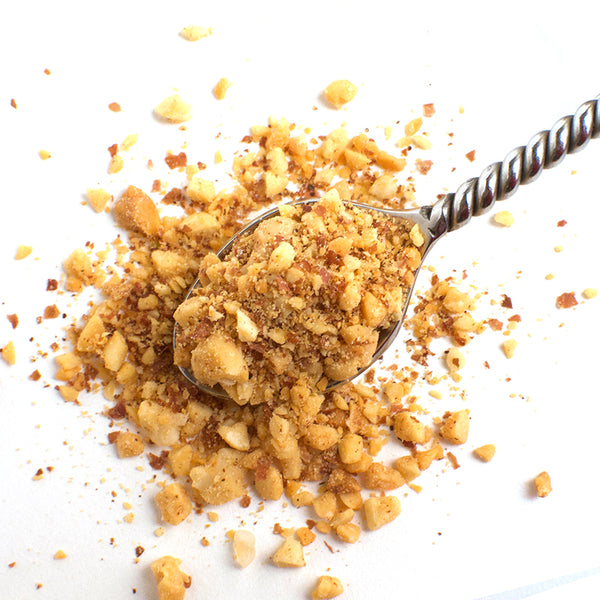 Peanut Garlic Chutney with Cayenne and Sea Salt
This Chutney is ingrained in my olfactory senses from the time I was a child. My grandmother always, always had this chutney with or without peanuts in a small canister on her dining table. Both my husband and I have had this chutney and my husband re-created this recipe from memory so that we could bring these intense flavors to you as well.
Have it as a condiment, sprinkle it in your sandwiches, make a dip out of it, have it anyway you like it. Strong garlicky flavors with the crunch of toasted peanuts and the heat of Cayenne Pepper balanced by sudden pops of Sea Salt is what you will experience as you savor this chutney. It is hot so a little goes a long way. Bringing our food memories to you!
Our blends are roasted and ground by hand with love in micro batches several times a month in our Northern Virginia factory to ensure you always receive the freshest seasonings possible!
Contains: Organic Garlic, Peanuts, Sea Salt, Organic Cayenne Pepper.
All of our blends are made with the finest organic whole spices and herbs. At Aromatic Spice Blends, we believe that by supporting organic farming practices and organic certifications of farmlands in places like India, Africa and Guatemala that produce amazing, nutrient-dense, immensely aromatic, earthy, yet jewel-like spices, we are doing our part to make the change we wish to see in the spice trade. For more about the importance of organic farming and how we source our whole spices, visit our About page.
Aromatic Spice blends makes the best individual and mixed spices. I have tried many blends and they can be used in so many different ways. Taco spice can be used in Mexican rice. The chai spice can be used in desserts and cereals. Great work!
Koolfam R.
Really tasty spices. Made fresh every time! Especially love the Chai and Coffee Spice!
Neeta P.
Absolutely delicious spice blends and snacks. My kids especially love the peanut garlic chutney on toast, and I use the Power Latte on my oatmeal every morning. Deepa's blends have inspired me to expand my cooking horizons and try new things...they are that good!
Jess M.
Amazing spices! Creative blends for so many different cuisines all made with the highest quality ingredients. Order a few familiar spice blends and then choose a few to push your recipe portfolio. The owner helped us with a large order for this year's client gift. It went over so well we think it might be our annual tradition!
Courtney S.
As a cook, I normally mix my own spice blends. Then I stumbled across Aromatic Spice Blends at Mom's Organic Market. OMG! I may never mix my own spices again.
Radhika M.
What an amazing array of spice mixes! Each one flavorful with hand picked ingredients. The owner, Deepa proudly explains how she carefully chooses her ingredients from many parts of the world to bring the perfect flavors to her blends. Among many other blends, taco spice, adobo, harissa, garam masala and chaat masala are our favorites!
Seems N.