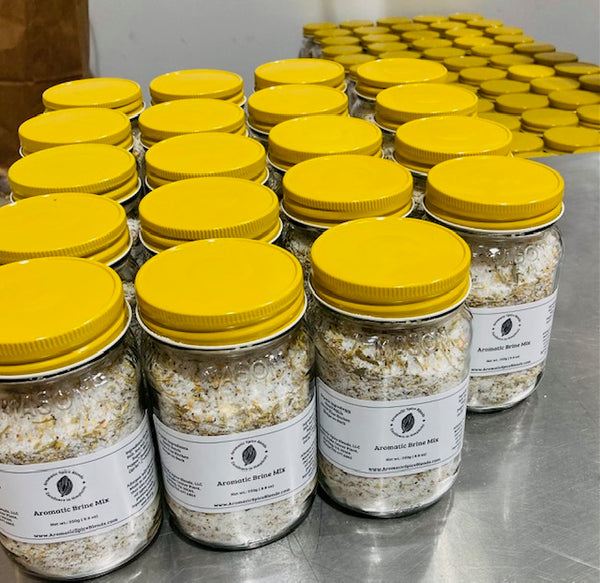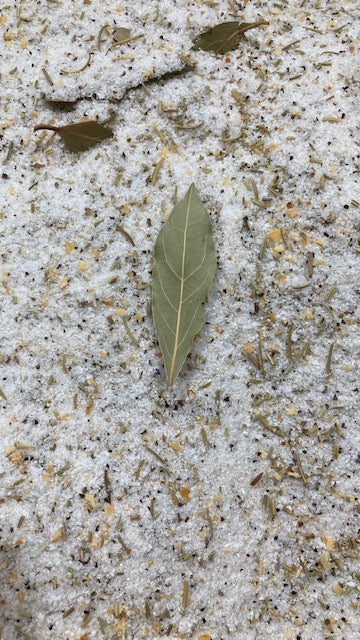 Brine mix description: Simple Ingredients to help you make a succulent Turkey for the holidays. Our Brine Mix is made of Kosher Salt, Sea Salt, Organic Cane Sugar, Organic Black Pepper, Organic Rosemary, Organic Garlic, Organic Orange Peel.
Suggested Method for Brining Turkey: 
* Use 1/2 to 1 cup Brine mix per 4 quarts (1 gallon) of water.
* Warm 1 quart of the water and add the brine mix to it, stir until it dissolves. 
* Add the remaining 3 quarts of water and stir again. 
* Make sure it is cool. 
* Immerse Turkey in this brine solution and refrigerate for 12-24 hours then use as per your recipe. 
* If the bird is larger, please use this recipe to make more of the brining solution.
* Remember to cook till inner thigh meat registers at 165-170 degrees Fahrenheit on a   food safe thermometer and juices run clear.
Aromatic Spice blends makes the best individual and mixed spices. I have tried many blends and they can be used in so many different ways. Taco spice can be used in Mexican rice. The chai spice can be used in desserts and cereals. Great work!
Koolfam R.
Really tasty spices. Made fresh every time! Especially love the Chai and Coffee Spice!
Neeta P.
Absolutely delicious spice blends and snacks. My kids especially love the peanut garlic chutney on toast, and I use the Power Latte on my oatmeal every morning. Deepa's blends have inspired me to expand my cooking horizons and try new things...they are that good!
Jess M.
Amazing spices! Creative blends for so many different cuisines all made with the highest quality ingredients. Order a few familiar spice blends and then choose a few to push your recipe portfolio. The owner helped us with a large order for this year's client gift. It went over so well we think it might be our annual tradition!
Courtney S.
As a cook, I normally mix my own spice blends. Then I stumbled across Aromatic Spice Blends at Mom's Organic Market. OMG! I may never mix my own spices again.
Radhika M.
What an amazing array of spice mixes! Each one flavorful with hand picked ingredients. The owner, Deepa proudly explains how she carefully chooses her ingredients from many parts of the world to bring the perfect flavors to her blends. Among many other blends, taco spice, adobo, harissa, garam masala and chaat masala are our favorites!
Seems N.